Authority control in Serbia
Ana Savic

Narodna biblioteka Srbije
Abstract
This paper describes the process of constructing Serbian authority database of personal names, its value for cataloguing, universal bibliographic ontrol development and Serbian library community. It continues with a discussion of authority control in the world in 21st century and describes authority control as a tool for library contribution in Linked Open Data agenda.
References
1. Angjeli, Anila i Andrew Mac Ewan i Vincent Boulet." ISNI and VIAF – Transforming ways of trustfully consolidating identities". IFLA, преузето 22. 07.2016, library.ifla.org/985/1/086-angjeli-en.pdf.
2. Билбија, Биљана. Основе библиотекарства. 2. измијењено и допуњено изд. Бањалука: Народна и универзитетска библиотека Републике Српске, 2015.
3. Byrne, Gillian and Lisa Goddard. "The Strongest Link: Libraries and Linked Data". D-Lib Magazine vol. 16, no. 11-12, (Nov.-Dec. 2010.), преузето 7. 08. 2016, http://www.dlib.org/dlib/november10/byrne/11byrne.html
4. "Guidelines for the national bibliographic agency and the national bibliography". Prepared by the IFLA International Office for UBC (Paris: Unesco, 1979), преузето 22. 07.2016, unesdoc.unesco.org/images/0004/000486/048658eo.pdf
5. Farago, Filip i Boris Bosanči i Boris Badurina, Povezani podaci i knjižnice www.hkdrustvo.hr/datoteke/1652/vbh/God.56(2013),br.4 (преузето 22. 07.2016.)
6. Hillmann, Diane et al. "RDA Vocabularies: Process, Outcome, Use". D-Lib Magazine vol. 16, no. 1-2, (Jan.-Feb. 2010.), преузето 2. 08. 2016, http://www.dlib.org/dlib/january10/hillmann/01hillmann.html.

7. Леива-Медерос, Амед и др. "AUTHORIS – инструмент за нормативну контролу на семантичком вебу". Гласник народне библиотеке Србије 2014/2015 (2015): 35-53.
8. "Platforma COBISS - Kooperativni online bibliografski sistem i servisi". Народна библиотека Србије, преузето 22. 07. 2016, http://www.cobiss.net/platforma_cobiss-SR.htm.

9. Seljak, Marta et al. "Vzpostavitev normativne kontrole v knjižničnem informacijskem sistemu COBISS.SI, Slovenija". Organizacija znanja let. 9 zv. 2 (2004): 1-16, преузето 22. 07.2016, http://splet02.izum.si/cobiss-oz/news.jsp?init=t&apl=Volumes.jsp&par=2004_2.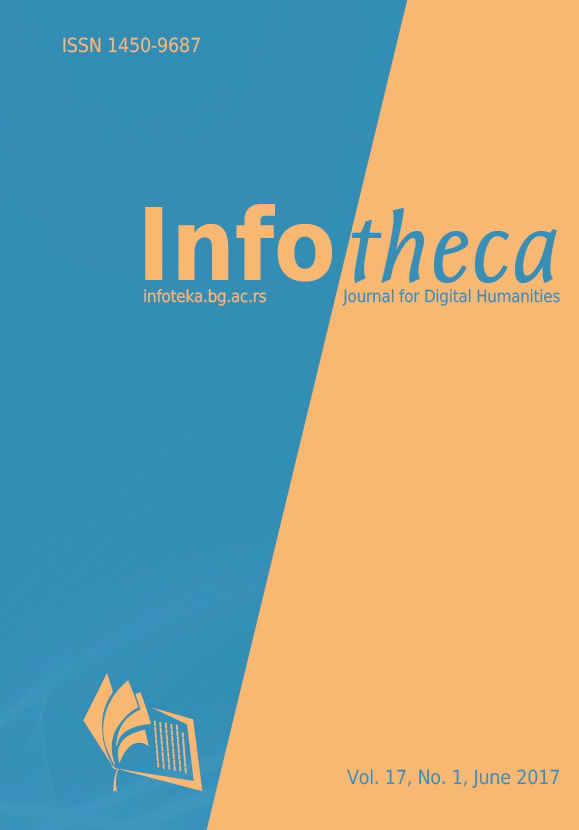 Keywords
authority control, Serbian authority database of personal names, Linked Open Data